The Optimist Club of San Antonio has four scholarships that are awarded in May at our club's annual scholarship luncheon. These are the Ed & Freda Jackson Memorial Scholarship; the Otto Tezel Scholarship in air conditioning; the Peggy Peterson Scholarship in nursing; and the Dick Thiesen Memorial Scholarship.
The club's scholarship committee is charged with obtaining and evaluating the applications for each scholarship, and making the final selection for each scholarship award. For the Jackson Scholarship, we work with the Bexar County Scholarship Clearinghouse and the Minnie Stevens Piper Foundation to obtain scholarship applications. For the Tezel and Peterson scholarships, we work with the financial aid department at St. Philips College. And for the Thiesen Scholarship, we work with the program directors at Boysville and Roy Maas Youth Alternatives.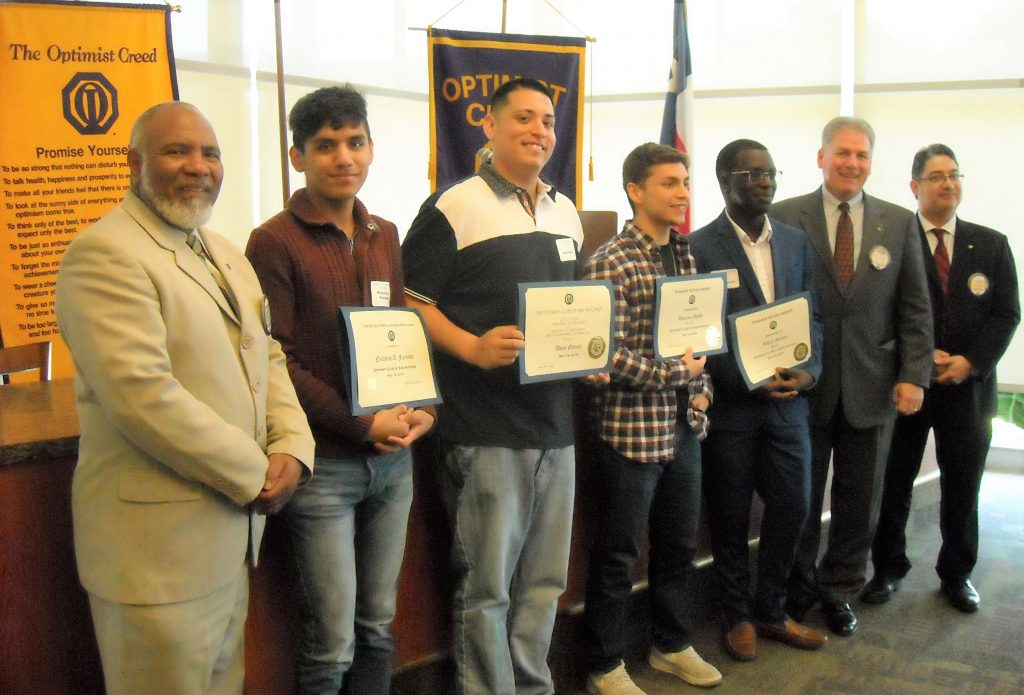 Ed and Fred Jackson Memorial Scholarship
The Ed and Freda Jackson Memorial Scholarship is an endowed scholarship started in 1985 by Dr. Richard Newman to honor the memory of Ed and Freda Jackson. The scholarship is awarded to a graduating senior from one of the SAISD high schools that will be attending a four-year university located in the state of Texas. The scholarship award is based upon scholarship, extra-curricular activities, financial need, and community service activities, with the emphasis placed on community service activities.
Vocational Scholarships
Acknowledging that not everyone was interested in earning a four-year university academic degree, but that there are many careers which require advanced training, at the request of Vice President Arthur O'Krent in 1992, the Optimist Club of San Antonio began the practice of including funds for Vocational Education scholarships in its annual youth and community service budget.
We give at least one scholarship in Air Conditioning (HVAC) in honor of long-time member Otto Tezel, founder of Tezel & Cotter Air Conditioning Company – a pioneer in the field of commercial air conditioning in San Antonio.
Dick Thiesen Memorial Scholarship
The Dick Thiesen Memorial Scholarship was started in 2005 in honor of our longstanding and dedicated member, Dick Thiesen, who passed away that same year. The scholarship idea was originated from Jim Hollerbach with the idea that we should be taking care of "our kids" (kids from Boysville and Youth Alternatives) with a scholarship award. The honor of naming this scholarship for Dick Thiesen was approved in unanimous vote by the Board of Directors in recognition and in honor of his lifelong dedication of giving of himself to the youth in our community, and to his lifelong dedication to education. Each year, we award one scholarship to a graduating senior from Boysville and to a graduating senior from Roy Maas Youth Alternatives.
Serving our Community
If you are interested in more information about scholarships, or wish to donate to help us serve more of our community's youth, please contact us at [email protected].